An investment project for serving large-sized equipment was implemented by a Japanese company in Kazakhstan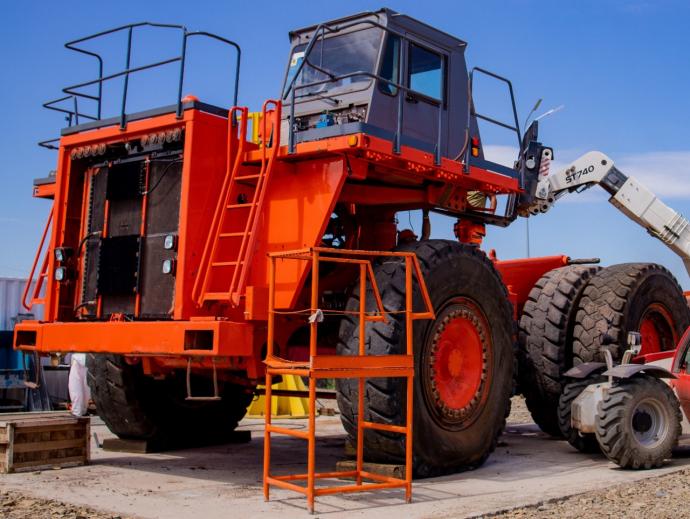 Japanese investors from the company "EURASIAN MACHINERY" LLP (a subsidiary of Hitachi Construction Machinery) have implemented an investment project to create a service center for serving large-sized equipment in Karaganda region. The services of the center are rendered for the enterprises of the mining industry, the construction and oil and gas sectors. The project was supported by KAZAKH INVEST specialists.
The total investment in the project amounted to $ 5 million. According to the company's specialists, the center is engaged in servicing mining and large-sized excavators, special equipment, loaders, dump trucks, etc.
"The peculiarity of the center is that the center has an ability to overhaul and restore equipment from small to gigantic machines. For example, the HITACHI EH5000AC-3 mining dump truck with a height of 7.5 meters and a length of 15 meters with an operating weight of 500 tons or a mining excavator EX8000-6 with a weight of 837 tons and a height of 10 meters", - said Omirbek Mukhambetov, Deputy General Director of "Eurasian Machinery" LLP.
The capacity of the service center is 400 components per year and includes such services as an overhaul of internal combustion engines, transmissions, gearboxes, hydraulic units, aggregates, etc.
"We carefully selected suitable investment sites, and also organized meetings with regional akimats. As a result, the optimal scheme of cooperation with a Social-Entrepreneurial Corporation in Karaganda region was chosen. The implementation of the project made it possible to increase the efficiency of production processes by increasing the technical readiness ratio of equipment and reducing the cost of the final product, as well as significantly save time and money of local entrepreneurs in the mining and metallurgical complex", - said Amir Akhmetov, project manager of KAZAKH INVEST.
The service center is one of the most advanced in Kazakhstan and makes a significant contribution to the development of a service cluster for industrial enterprises in the mining and metallurgical complex. As of today, the project employs about 50 people. Investors note that in order to improve the service level, the center's specialists take courses and advanced training in the best training centers of Hitachi (Japan), MTU (Germany and Turkey), Allison (Russia). In addition, the company has its own technical training center in Almaty.